Disclaimer: this article is not financial advice but only my opinion. Please talk to local real estate agents and investors before investing.
| | |
| --- | --- |
| Overall Prospects:46 | 2020: 38 |
| Investor Demand: 2.88 | 2020: 3.35 |
| 2021 Price: $155,000 (+10.5%) | 2021 as % of previous cycle peak: 119% |
The Emerging Trends
---
| | |
| --- | --- |
| 2010-2018 CAGR: 2.6% | Rent Median: $922 |
| Rent CAGR: 5.4% | Vacancy Rate: 5.0% |
| COC: 4.17% | Rent-to-Price Ratio: 0.79% |
BiggerPockets BPInsights 2020 June
---
Pittsburgh, known as "the Steel City", has been lauded for its remarkable municipal reinvention. However since 2016, investors has been skeptical of capital committed. The Emerging Trends survey indicates that the overall real estate prospects and investor demand have been falling in the past years. Even though the population is still around 2 million, Pittsburgh has been losing population. The Pittsburgh metro area has actually lost 31,000 (–1.3%) residents since 2010.
The silver lining is that the population lost is mostly the loss of the elderlies. Young professionals have been migrating to Pittsburgh, and the income has been increasing steadily before the pandemic.
Can the investor demand improve in the future? Maybe, but in the eyes of local market participants, that shift in trend is not expected soon. The economy during the pandemic further proved the point. The best way to invest is to treat Pittsburgh as a niche market, do your due diligence, invest with a long term mindset, and focus on cashflow.
Population
Pittsburgh is the second largest city in Pennsylvania, after Philadelphia. According to a University of Pittsburgh economist, Pittsburgh has  attracted many young adults and asian immigrants, but those are offset by decreases in the number of elderly residents, children and African Americans.
| | |
| --- | --- |
| 2020 population: | 2.31 Million (-0.4%) |
| 5-year projected % change: | -0.1% |
| 5-ear projected annual net migration (000s): | 3.74 |
MSA data, from IHS Markit forecast, U.S. Census Bureau, U.S. Bureau of Economic Analysis, U.S. Bureau of Labor Statistics
In summary, the decrease in population has finally been minimal, but changing to a positive rate will still take some time.
Economics
Data from: IHS Markit forecast, U.S. Census Bureau, U.S. Bureau of Economic Analysis, U.S. Bureau of Labor Statistics.
Real per-capita income: $60,140            5-year projected change:  1.7%
Cost of doing business: 97.6
2021 total employment (000s):1,128     5-year projected change: 2.1%
The job market has not been as robust as people thought during the pandemics. Even though the diverse industries can help Pittsburgh mitigate the impacts, but 2021 will still most likely under-perform national average.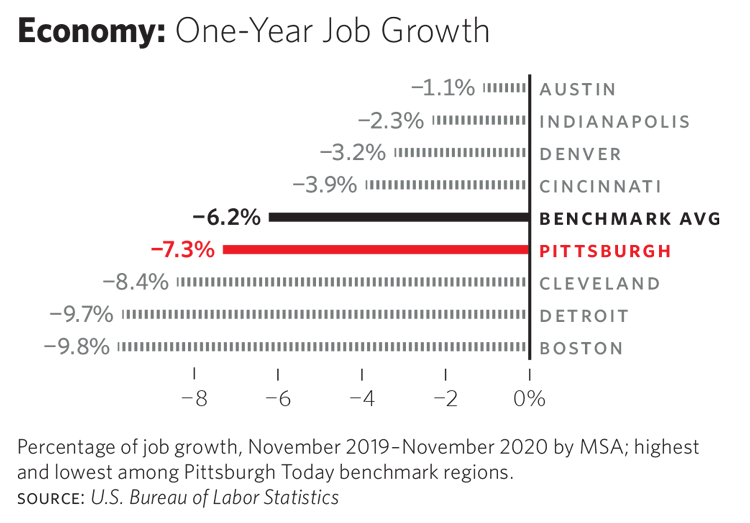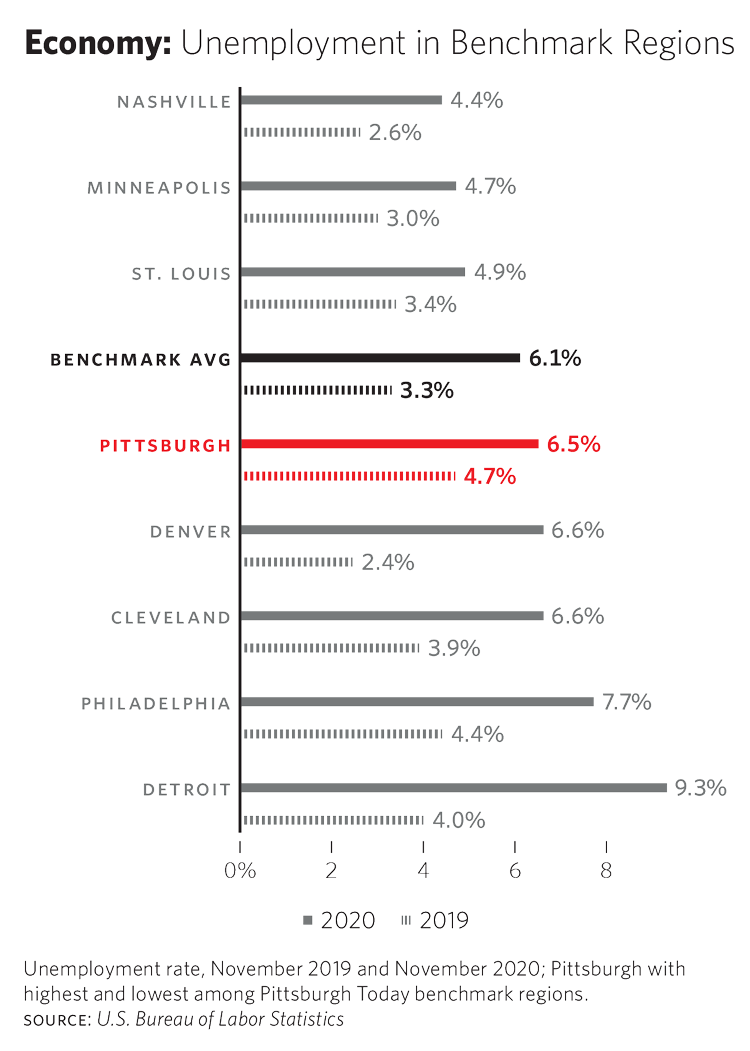 Since mid-2018, Pittsburgh's new job posting has been below average, what makes it worse is that Pittsburgh's labor force shrank to more than 4 percent below its year-ago level as 2020 came to a close, whereas the national labor force trend has been down 2.5 percent versus the prior year since mid-2020.
Decrease in both job postings and labor force are not good signals for Pittsburgh in 2021.
For different industries, business and professional services show strong recovery, while leisure and hospitality services is at -28.8% below national average of -19.6%. The rest of high income industries that Pittsburgh is proud of is also lower than national average. Traditional industries like manufacturing and transportation has even lower levels. Healthcare and government sectors are doing pretty good, while finance is only slightly better than last year.
According to Pittsburgh Business Times, by total employee numbers, the top five employers are: University of Pittsburgh Medical Center (UPMC, 53,000), Highmark Health (27,279), U.S. Government (18,473), Commonwealth of Pennsylvania (15,972), and University of Pittsburgh (13,000).
Ranked by revenue: Kraft Heinz, PNC Financial, PPG, United States Steel Corp, and Arconic. Tech companies including Amazon, Facebook, Bossa Nova Robotics, and IAM Robotics have office in Pittsburgh.
Overall, the main industries in Pittsburgh are healthcare, education, government, professional services, and industrial。
Education
There are many colleges in Pittsburgh, the top three ranked by enrollees are University of Pittsburgh, Carnegie Mellon University, and Duquesne University.
University of Pittsburgh
University of Pittsburgh (33,744 students+ 5,357 faculties) is famous for its medical related programs. University of Pittsburgh Medical Center has been one of the best hospitals in the US.
Carnegie Mellon University
The computer science program of CMU is world-renowned of course, but the arts, statistics, engineering departments have also been ranked very high. Including other campus, Carnegie Mellon University has  around 14,500 students and 1,300 faculties.
Duquesne University
Duquesne University (9,179 students + 970 faculties) is a private Catholic university, ranked 143 in US News.
Real Estate Market
ZHVI $207,813. 13.3% in 1 year and 51% in 5 years
Realtor.com listing price is at $232,000, median sold price is $225,000
Incomplete Neighborhoods Guide
The summaries below are compiled from multiple sources. If you want to know more about each neighborhood, you have to check out the masterpiece neighborhood guide by Dean Bog on Youtube:
Besides, https://www.visitpittsburgh.com/ and https://www.discovertheburgh.com/ are both good resources.
Oakland
Known to be one of Pittsburgh's liveliest neighborhoods, it is the educational and medical heart of the city since it's home to Carnegie Mellon, Pitt, UPMC, and nearby Carlow University. Naturally, a ton of students live in this area but it also hosts young professionals and families. In terms of popular spots, you can find people enjoying the likes of Essie's Original Hot Dog Shop, Conflict Kitchen, or Spice Island Tea House.
Shadyside
Shadyside is a quiet residential area。Walnut Street and Ellsworth Avenue is the commercial and entertainment center of Shadyside, full of all kinds of  boutique stores and restaurants. Shadyside has many well-maintained Victorian Style homes, even the apartments has hardwood floors and old-fashioned architectural styles.
Bloomfield
Bloomfield is at the east of Downtown Pittsburgh, easily accessed by Liberty Avenue, Penn Avenue and Bigelow Boulevard. The commercial district along the Liberty Avenue is one of the largest and most popular in Pittsburgh.
Since late 19th century, workers near Lawrenceville built many row houses for single families and businesses. Today these well maintained row houses and narrow streets defined Bloomfield. Bloomfield residents are therefore deeply rooted in this community.
Squirrel Hill
Squirrel Hill is also to the east of downtown Pittsburgh. It has many popular restaurants, grocery stores, pastries, bar, and boutique stores. Frick Park and Schenley Park are right next to Squirrel Hill, where you will see Squirrel Hill residents biking, hiking, skating, playing tennis, or even golfing.
The types of houses in Squirrel Hill include apartments next to Forbes and Murray Avenues and brick homes in Fair Oaks.
South Side
The South Side is divided topographically into the Flats, the Slopes, and the South Shore, is located south of both Downtown Pittsburgh and Oakland. Commuters and visitors to the South Side enjoy convenient public transportation in the form of buses and the "T".
Pittsburgh's South Side is a unique mix of residents -- older neighbors whose families have lived on the same street for generations, and young families and single professionals attracted by the thriving arts and cultural communities.
References
Pittsburgh Quarterly: 2021 Economic Outlook
Roofstock: The Pittsburgh Real Estate Market: Stats and Trends for 2021
https://www.fortunebuilders.com/pittsburgh-pa-real-estate-market-trends-analysis-2018/
https://downtownpittsburgh.com/research/
https://www.realwealthnetwork.com/markets/pittsburgh-pennsylvania/
https://www.huduser.gov/portal/publications/pdf/PittsburghPA-comp-17.pdf